read
After a 3 week wonderful sejour in SF, I decided to go to Mexico City with my girlfriend for 4 days. I wanted to share my experience about hiking on the outskirts of the city, since it was pretty interesting. Also, I have some time to write this post since NYC is shut down for a blizzard!
If you read this NY Time article, you'll see how there are several high quality hikes around the city. Travelers are slowly beginning to realize this.
The problem is, it doesn't seem like many of the locals even know much about these climbs. So if you are "brave" enough to head out there, good luck finding your way.
We originally planned to head up Izta, but with our short stay coming from sea level, it made more sense to do smaller hikes. So we planned to do Ajusco and Nevado de Toluca. However, we underestimated the amount of effort to even get to the trail-head at Ajusco, and with 1.5 days remaining in Mexico, we ultimately decided to spend the rest of the time in the city. So I'm only going to write about Ajusco.
How to get there
Without much information to go by, we used the NY Times article and this summitpost. Both turned out to be pretty useless, but the NY Times article was a little better since we didn't have a car. Basically, we took the green subway line to 'Universidad.' From there, we went to the 'C' terminal bus station, and found a bus that said 'Ajusco' on it. So we took it!
Slowly we began to realize that the bus wasn't going to take us anywhere near the trail-head. So we got off the bus at the last stop and got a taxi instead. Unfortunately, we had no idea where to get off as we approached the mountain! So we told the driver to let us off at some restaurant, while trying to get his number in case we needed it on the way down. He didn't seem too happy about driving all the way back to pick us up…
We asked the owner of the restaurant where the Pique de Aguilla was, and he gave us some weird directions that we couldn't decipher. It took us about 2.5 hours to get to this point on the mountain (the road is called "circuit de Ajusco"), so we were really doubting we would even find the hike!
Luckily, a convoy of cop cars was passing by at 20 mph, and we don't really know why (we have very limited spanish). But we somehow communicated to them where we wanted to go and they wound up giving us a ride to a "closer" point to the trail-head. We had to ask around a bit more to see where to actually go. We were pointed to this road surrounded by wheat fields and suddenly fell upon a rope bridge with a sign to "Pique de Aguila!"
It was really funny at this point because we started walking through the forest trying to find an actual trail. There were several forks where we could've gone the completely wrong way. Luckily 30 min in, we encountered some locals actually doing the same hike!! I don't have much advice for you beyond the rope bridge, just stay left and go steep.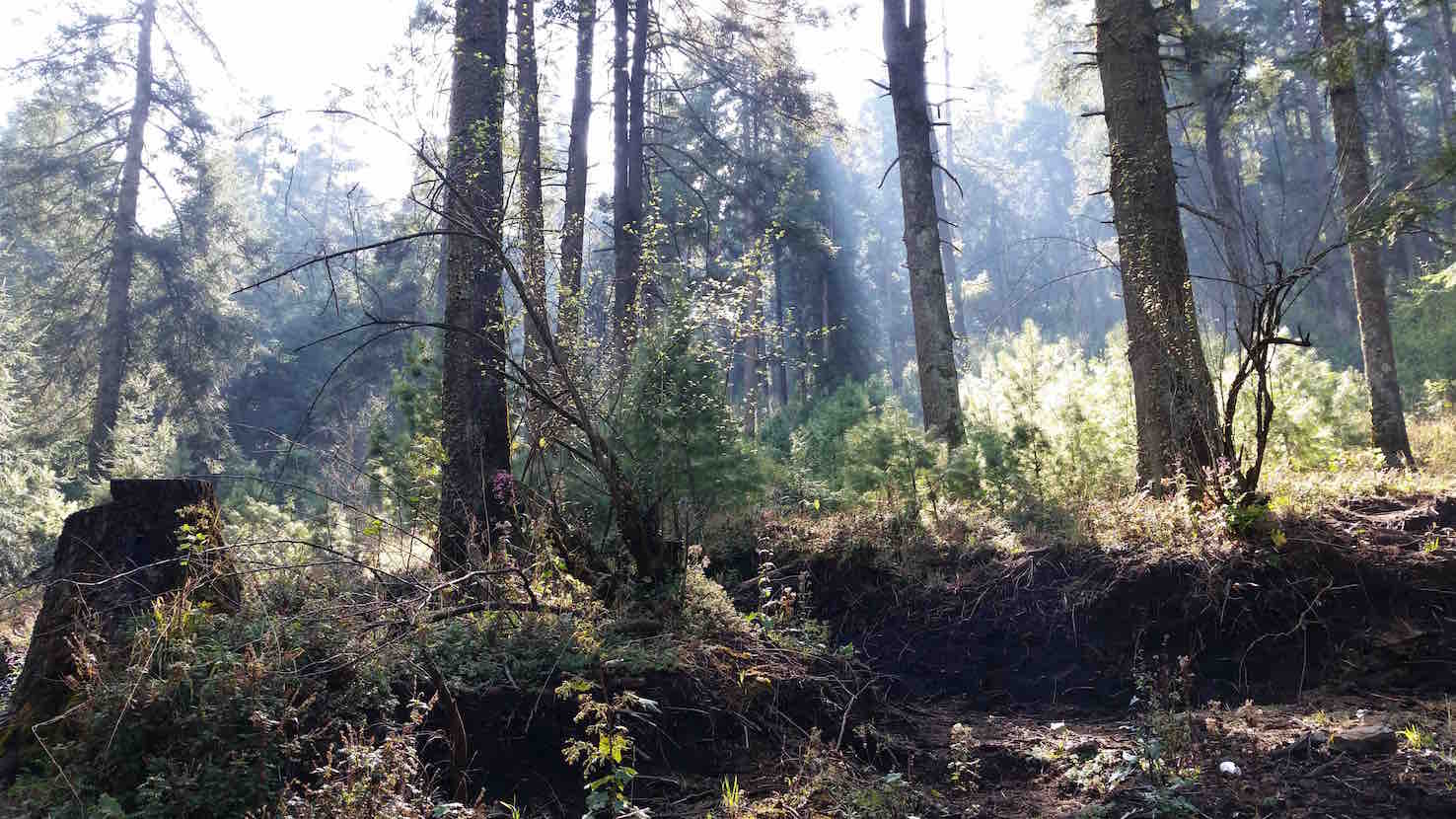 The actual hike
The first hour is extremely steep and long. It's all easy going after that, less than an hour until you get to the real summit depending on your pace. This is a moderate hike for a 4000ft gain!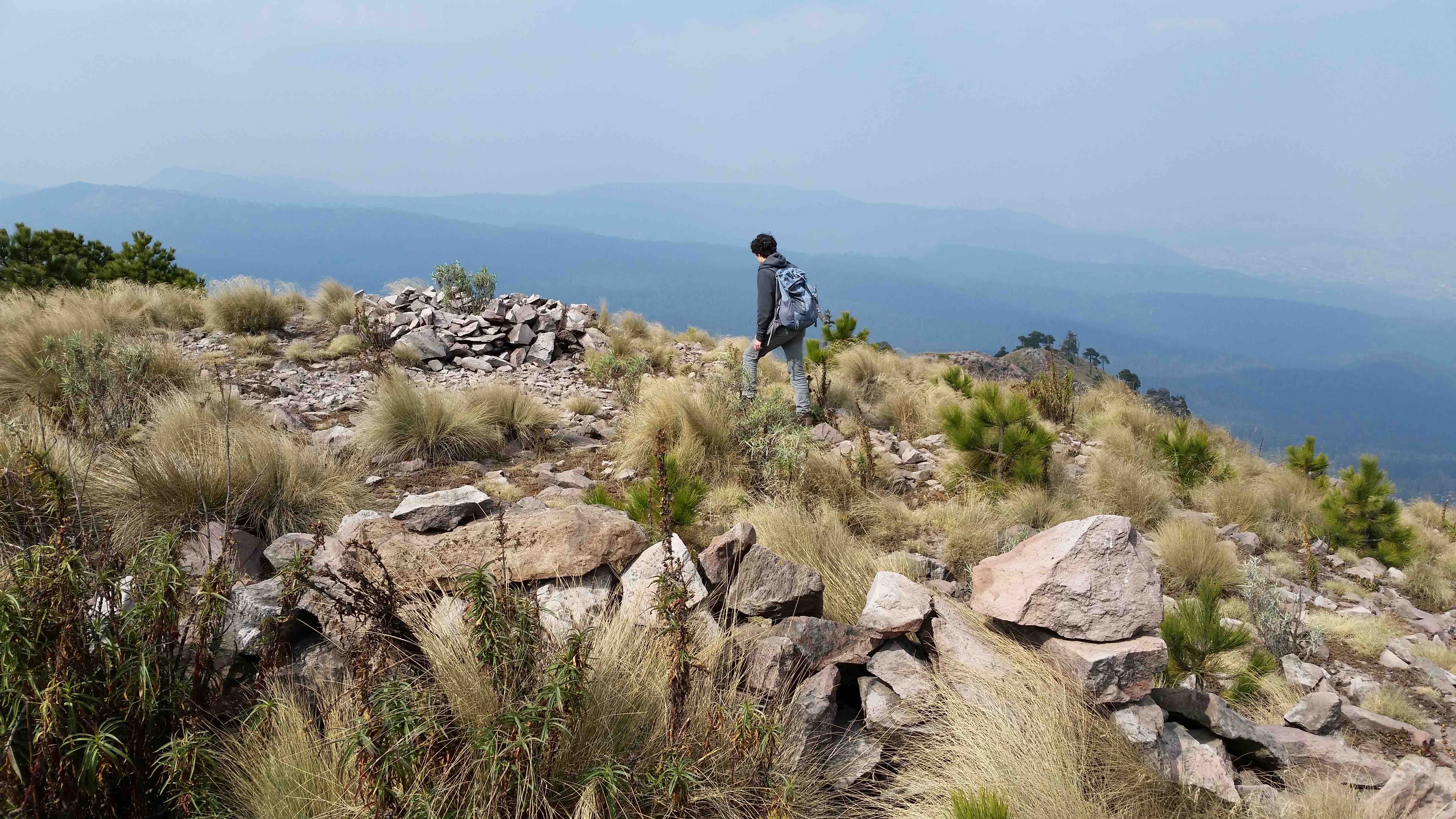 Going home
Getting down is pretty straightforward. Once you get to that steep part again, you'll probably start getting annoyed and just want to get home!
When we finally got down, we started to get scared because we realized we had no way of actually getting to Mexico City! After dilly-dallying and asking people how to get a cab and being answered with nods saying "good luck with that," one local agreed to take us to the nearest bus station for 70 pesos. We gave him 100 instead and luckily found a cab that wound up taking us all the way back to Universidad subway station. A Tylenol was much needed after the cab ride :)